Result of the research : 'punu'



PERROIS Louis & GRAND-DUFAY Charlotte

PUNU

Détails sur le produit: Broché: 160 pages - Editeur: Five Continents Editions (12 juin 2008) - Collection: Visions of Africa Series - Langue: Anglais - ISBN-10: 8874394012 - ISBN-13: 978-8874394012

Descrizione libro: I Punu, stanziati nella regione sud-occidentale del Gabon, fanno parte di un gruppo di popolazioni essenzialmente conosciute per le maschere bianche. Questi oggetti non hanno mai cessato di impressionare, dai collezionisti agli appassionati di arte africana, fino agli artisti occidentali dell'inizio del Novecento; Picasso, in particolare, ne possedeva una. Il volto ricoperto di argilla bianca, gli occhi leggermente a mandorla, la bocca dalle labbra rosse finemente contornate e l'acconciatura sofisticata composta di varie ciocche di capelli intrecciati, fanno parte delle caratteristiche stilistiche delle maschere. Gli autori studiano il contesto di uso rituale di questi importanti oggetti, che i Punu e le popolazioni loro collegate utilizzavano in occasione di danze chiamate, tra gli altri nomi, "mukuyi". Le maschere appartenevano al "bwiri", congregazione di soli uomini, e coloro che le portavano erano scelti esclusivamente tra gli iniziati. Costoro eseguivano danze acrobatiche su trampoli, il più delle volte in occasione di riti funerari e in onore degli antenati, incarnati dalle maschere. Questi ultimi assumevano, così, un ruolo di vigilanza allontanando le forze del male. Le danze esistono anche attualmente, ma in un contesto di festeggiamenti, senza rispettare più l'anonimato di chi le indossa. La ricerca delle tradizioni e delle loro correlazioni con il contesto della regione del Gabon meridionale, passa in rassegna altri oggetti, molto meno

[ See the continuation... ]





NEYT François

FLEUVE CONGO: Arts d'Afrique centrale, correspondances et mutations des formes

Détails sur le produit:

Couverture reliée sous jaquette en couleur: 405 pages - Format: 29,7 x 24,5 cm - 400 illustrations - Musée du quai Branly

Editeur : Fonds Mercator Bruxelles (12 juin 2010) - Collection : FONDS MERCATOR

Langue : Français - ISBN -10: 9061539145 - ISBN -13: 978-9061539148

NEYT François - FLEUVE CONGO - Arts d'Afrique centrale, correspondances et mutations des formes

Descrizione libro - Présentation de l'éditeur - Biographie de l'auteur

Descriptions du produit:

Descrizione libro

Cet ouvrage met en lumière les interrelations qui unissent la production artistique des groupes humains de l'Afrique centrale. Les correspondances et les mutations des formes présentées mettent en évidence les sources d'inspiration de ces populations s'exprimant dans une langue bantoue. Ces sculptures traduisent à leur manière la présence d'une civilisation unique de la côte atlantique aux abords du lac Tanganyika à l'est. Celle-ci couvre le bassin du fleuve Congo et celui d'Ogooué au Gabon. De nombreuses cartes géographiques ponctuent le passé culturel de ces peuples, leurs migrations et la localisation des sculptures choisies. Les trois thèmes retenus se présentent comme un chemin initiatique soulignant

[ See the continuation... ]





FALGAYRETTES-LEVEAU Christiane, Gérard Delorme, Michel Leveau, Dominique Blanc

Gabon: Présence des esprits

Détails sur le produit:

Relié: 205 pages - Editeur: Editions Dapper (20 septembre 2006) - Collection: BEAUX ARTS - Langue: Français

ISBN-10: 291525818X - ISBN-13: 978-2915258189

FALGAYRETTES-LEVEAU Christiane, Gérard Delorme, Michel Leveau, Dominique Blanc:

Gabon: Présence des esprits

Descriptions du produit: Présentation de l'éditeur - Biographie de l'auteur

Descriptions du produit:

Présentation de l'éditeur

A travers des œuvres d'une qualité plastique exceptionnelle, l'ouvrage Gabon, présence des esprits, donne une vision d'ensemble de modes d'expression témoins de savoirs ancestraux et de pratiques comptant parmi les plus aboutis des arts africains. Au cœur des relations qui unissent les vivants et les morts, le culte des ancêtres s'appuie sur un objet essentiel, le reliquaire surmonté d'une figure de gardien. Les Fang et les Kota en ont été les sculpteurs les plus inspirés. Les masques, dont les manifestations sont diversifiées, occupent également une place centrale chez la plupart des peuples du bassin de l'Ogooué, punu, lumbu, njabi, vuvi, fang, kota... Utilisés lors de cérémonies cultuelles ou au quotidien, d'autres types d'objets, instruments de musique, cuillers, couteaux,

[ See the continuation... ]


Il est né le 3 novembre 1903, à Saint-Louis, Missouri. Il étudie au Williams College en 1922-1923 et à la Sorbonne en 1926. Evans débute la photographie en 1930. Il obtient une bourse de la Fondation John-Simon-Guggenheim en 1940, 1941 et 1959. Il entre au magazine Time en 1945 et à Fortune en 1965. Cette même année, il devient professeur de photographie à l'école d'art de l'Université Yale. Il est mort le 10 avril 1975, à New Haven, Connecticut.

On connaît notamment son travail sur la Grande dépression, participant au programme de la Farm Security Administration. Les images de métayers dans l'Alabama, au même titre que celles de Dorothea Lange, comptent parmi les icônes du monde moderne.

On remarque dans son travail les regards des sujets fixant l'objectif de Walker Evans : ici pas de doute le sujet se sait photographié, pour autant il ne se compose pas un visage de circonstance orné d'un sourire obligatoire. Ici la photographie ne se contente pas de montrer, elle interroge le spectateur, l'américain des années 1930 : si le sujet se laisse photographier dans cette posture, c'est que son regard a quelque chose à nous dire. Ce n'est peut-être plus nous qui le regardons mais lui qui nous accuse.

Cette franchise du photographe préserve une dignité humaine mise à mal par la misère qui se laisse voir dans les vêtements en loques.

Cet aspect de ses photos est

[ See the continuation... ]


galeries art africain,gallerie art africain, galerie art africain, galerie d art africain, art,sculptures, art sculpture, galerie d art,galerie art en ligne, galerie art contemporain, expo art africain, galerie, exposition art africain, achat art contemporain, exposition, expositions, art africain, art premier, art primitif, arts premiers, arts primitifs, art, arts, primitif, primitifs, primitive, premier, premiers, tribal, tribals, african, africain, oeuvre, oeuvres, musée, museum, antiquités, antiquaire,antiques, Paris, Orsay, Verneuil, Mona Lisa, Louvre, galerie, gallery, Africa, Afrika,Afrique,histoire, history, art objects, objects, mask, masks, masque, masques, statues,statue, fétiches, fétiche, carving, siège, seat, appuie-nuque, artiste, artistique, achat,vente, expertise, Picasso, André, Breton, Jacques, Kerchache, Vlaminck, Quai Branly, Marcel,Griaule, Jean, Rouch, Cameroun, Bamiléké, Bamoun, Dogon, Bandiagara, Nigeria, Côte d'Ivoire,Ivory Coast, Liberia, Yoruba, Baoulé, Sénoufo, Kota, Bambara, Ashanti, Ghana, Bangwa, Cokwe,Tchokwe, Kifwebe, Burkina Faso, Gabon, Fang, Punu, Ethiopie, Ethiopia, Benin,art art africain primitif art primitives art mask yoruba african arts primitifs art arts premiers art africain expert gallery african galerie d'art africain masque statue art d'afrique noire exposition primitive tribal africa afrika, premier, premiers, art premier, arts premier, art premiers, arts premiers, musee art premier, musee arts premier, musee arts premiers, les arts premiers, les arts premier, les art premier, galerie art premier,galerie arts premier, galerie arts premiers, exposition art premier, exposition art premiers,exposition arts premiers, primitif, primitifs, art primitif, arts primitif, art primitifs,arts primitifs, musee art primitif, museearts primitif, musee arts primitifs, les arts primitifs, les arts, primitif,

[ See the continuation... ]


Texte de présentation extrait de l'ouvrage:

J. Kerchache, J-L. Paudrat, L. Stephan, L'Art Africain Jacques Kerchache, Citadelles, 1988

Sans méthode préalable, la passion de l'Afrique m'a propulsé au cœur du Gabon, m'a porté du Congo en Guinée équatoriale, de la Côte-d'Ivoire au Libéria, m'a conduit du Burkina Faso au Mali, de l'Éthiopie au Bénin, du Nigeria au Cameroun et de la Tanzanie au Zaïre. De ces expériences parfois difficiles, physiques certes, mais surtout intellectuelles et spirituelles, de ma participation à certaines cérémonies et à diverses manipulations d'objets, de mon immersion temporaire mais effective dans les cultes de l'ancienne Côte des Esclaves, je ne puis restituer aujourd'hui que des sensations, des impressions et je me garderai de toute affirmation.

Cependant, devant la sculpture africaine, il faut cesser d'avoir peur d'être profane et se laisser envahir par elle ; il faut s'en approcher, la fréquenter, se l'approprier, l'aimer. Lui offrir son temps, lui ouvrir sa sexualité, ses rêves, lui livrer sa mort, ses inhibitions, redécouvrir autre chose en soi. Sans lâcheté, ne pas hésiter à désacraliser, sans les rejeter, ses sources culturelles. Ne plus avoir cette taie sur l'œil et se laisser aller à la jouissance, se laisser gagner par la magie.

Même si nous ne pouvons contempler cette sculpture que par fragments, ceux-ci

[ See the continuation... ]


African art

African art constitutes one of the most diverse legacies on earth. Though many casual observers tend to generalize "traditional" African art, the continent is full of peoples, societies, and civilizations, each with a unique visual special culture. The definition also includes the art of the African Diasporas, such as the art of African Americans. Despite this diversity, there are some unifying artistic themes when considering the totality of the visual culture from the continent of Africa.

* Emphasis on the human figure: The human figure has always been a the primary subject matter for most African art, and this emphasis even influenced certain European traditions. For example in the fifteenth century Portugal traded with the Sapi culture near the Ivory Coast in West Africa, who created elaborate ivory saltcellars that were hybrids of African and European designs, most notably in the addition of the human figure (the human figure typically did not appear in Portuguese saltcellars). The human figure may symbolize the living or the dead, may reference chiefs, dancers, or various trades such as drummers or hunters, or even may be an anthropomorphic representation of a god or have other votive function. Another common theme is the inter-morphosis of human and animal.

Yoruba bronze head sculpture, Ife, Nigeria c. 12th century A.D.

* Visual abstraction: African artworks tend to favor visual abstraction over naturalistic representation. This is because many African artworks generalize stylistic norms. Ancient Egyptian art, also usually thought of as naturalistically depictive, makes use of highly abstracted and regimented visual canons, especially in painting, as well as the use of different colors to represent the qualities and characteristics of an individual being depicted.

* Emphasis on sculpture: African artists

[ See the continuation... ]


At a glance the Other


History of European eyes on Africa, America and Oceania

At a glance, and one devoted to successive visions brought by Europeans on the cultures of Africa, the Americas and Oceania. This program is a pretext to put into perspective by thematic series, the relativity of our eyes on the threshold of a new museum. Rather than return to the past, this catalog (and exhibition which is the source) marks a starting point.

From the Renaissance to today, the "idols of the Indians", "instruments of the natives," "primitive fetishes," "Negro Sculpture" or "first arts" were the witnesses of likes and dislikes, revealing reflections on otherness. The originality of this publication reflects historical depth that allows to include these objects in a broader history of art.

The Musée du Quai Branly appealed not only to works of other cultures, reflecting the first contacts with Europe, but also to European works within the midst of which they were placed. The catalog shows as well, in a strange series of chapters, how European eyes have gradually allowed other creations from, for example, curiosity amazed rankings systematic evolutionary wanderings of the images of the Universal.

Throughout the pages, the reader travels with the Nave of Charles V., Écouen treasure museum, portraits of Indians of Brazil painted in 1637 for the palace of the Prince of Nassau, rhinoceros horn cups Habsburg Pre-Columbian

[ See the continuation... ]





The eyelids are lowered but the eye is not completely closed. This is thus not about a dream. But what can one see

well under these conditions? They say they look beyond, this world that we cannot see normally but which the mask

can contact. The people of Africa imagined the dances of the masks to try to regulate problems which emerged to

the alive ones because of the dissatisfaction of the spirits. The dancer is thus inhabited by the spirit that the

mask represents, and he translates it in its dance. The masks themselves are secondary even if we are struck by

their plastic quality and the extreme diversity of the forms, even in the same ethnic group. However similar

plastic solutions are rather largely found. Thus the half-closed eye is a feature that we can find in many corpus.

The previous exhibition of the gallery L'Oeil et la Main presented a whole of masks portraits of the Cameroon and

there the eyes were wide opened. The fact to show the personnality of a character, not a state of intercession,

justifies the use of realism if this is that of the caricature. Quite to the contrary, in the present exhibition

we've selected various masks where the treatment of the eyes - any round

[ See the continuation... ]


Primitive arts in Kaos
Le Journal des Arts - n ° 220 - September 9, 2005

The young Parisian journey Kaos has quickly become the global meeting place among lovers of primitive art. With a fourth edition even richer.
It took only two years at Kaos-Course Worlds in Paris Saint-Germain-des-Prés, home of the primitive arts, to win. Modeled on that of Bruneaf Brussels (Brussels Non European Art Fair), Kaos is an open event bringing together specialist dealers concentrated in one area (ie, exhibiting in their walls or hosted by other galleries). But while Bruneaf is losing momentum in recent years, Kaos is getting stronger. Created in 2002 from an idea by Rik Gadella (among other founder of Paris Photo), the appointment of Parisian art lovers first hosted the first year 21 galleries around the axis of the Rue de Seine, then 40 participants in 2003. The formula took off in 2004 with 51 exhibitors from around the world and has already reached international fame. This latest edition was also shown the excesses of the success of Kaos: merchants had refused leased spaces on the course to enjoy the commercial success generated by the event. Without dwelling on the subject, "not to do their advertising, its management announced a reinforcement of the signage" Kaos "to foreclose any parasites.

Must
This year, 55 galleries will open the festivities on the evening of Sept. 14, in a friendly atmosphere that gives the event a very special charm

[ See the continuation... ]


Masques du Gabon

Les masques traditionnels ont toujours tenu une place importante au sein des cultures gabonaises. Chaque ethnie a les siens, dédiés à des cérémonies variées mais toutes importantes dans le rythme de vie de ces populations.

Masque Okuyi

Les masques Okuyi sont utilisés dans la tribu Myénée. Ils sont utilisés pour accompagner les funérailles ou les retraits de deuil.

Symbolique et utilisation

Ce sont des masques d'ancêtres. Ils expriment la sérénité de leurs anciens qui les protègent et les conseillent depuis le royaume des morts. Le porteur du masque est recouvert d'un costume de raphia. Durant les cérémonies, il pousse des cris sauvages destinés à effrayer les spectateurs.

Les masques noirs sont quant à eux probablement dotés d'une fonction judiciaire.

Caractéristiques

Masque anthropomorphe blanc, sa face est peinte au kaolin. La couleur blanche du kaolin est

[ See the continuation... ]


Jacques Kerchache

Les objets rituels, masques, statues, mobilier, utilisés en surf ace, jouent dans la société africaine traditionnelle, m rôle bien plus important que les objets funéraires, destinés à'être enterrés. Il faut leur adjoindre une petite quantité de pièces au double emploi (parures, mobilier sacré) qui accompagnent le mort dans sa tombe, comme à Igbo-Ukwu au Nigeria, ou certains objets funéraires trouvés fortuitement et réutilisés en surface, comme chez les Kissi en Guinée, ceux de la culture nok ou de celle d'Owo au Nigeria.

En Afrique, les esprits sont partout présents. Un homme devient souvent plus important après sa mort que pendant sa vie. Les signes de surface fonctionnent par ensembles et sous-ensembles, dans un rapport étroit entre le rôle qu'ils jouent et celui de leurs manipulateurs ; il existe des objets collectifs (souvent les masques), semi-collectifs (de nouveau les masques et une petite partie de la statuaire) et ceux -particulièrement des statuettes- réservés aux sages, mémoire vivante de la communauté. Ceux-ci réactualisent continuellement les objets dans les relations qu'ils entretiennent avec le monde extérieur (événements historiques, contacts avec l'islam, le christianisme, migrations, guerres, alliances) et le monde intérieur (esprits, mort, rêves). Autour

[ See the continuation... ]





Martine Pinard

Ecole du Louvre

Spécialité Arts de l'Afrique

Janvier 2008

" L'Art nègre ? Connais pas " ! Picasso, 1920

I. Préambule

Au début du XXème siècle et plus précisément vers les années 1905-1907, des peintres commencèrent à collectionner des sculptures d'Afrique et d'Océanie. Qui sont ces collectionneurs de ce qu'on a appelé l' " art nègre " (terme qu'il faudra définir) ; comment, dans quel contexte, ont eu lieu les premières acquisitions ?

Cette première question en induit naturellement une autre : s'il y eut un engouement de prime abord (semble-t-il) " artistique ", qui étaient les premiers collectionneurs-marchands, nécessairement devaient être présents dans le circuit de ces acquisitions ?

Enfin, de manière plus générale, le dossier soulève en toile de fond, la question du changement de regard pour l'art africain et plus généralement l'art des " Autres " sous l'angle de l'impact de cet engouement du début du XX ème siècle. Peut-on esquisser une " trajectoire "

[ See the continuation... ]


African traditional masks

There are an enormous variety of masks used in Africa. In West Africa, masks are used in masquerades that form part of religious ceremonies enacted to contact with spirits and ancestors.

The Yoruba, Igbo and Edo cultures, including Egungun Masquerades and Northern Edo Masquerades. The masks are usually carved with an extraordinary skill and variety by artists who will usually have received their training as an apprentice to a master carver - frequently it is a tradition that has been passed down within a family through many generations. Such an artist holds a respected position in tribal society because of the work that he/she creates, embodying not only complex craft techniques but also spiritual/social and symbolic knowledge. African masks are also used in the Mas or Masquerade of the Caribbean Carnival.

African masks are made from different materials: wood, bronze, brass, copper, ivory, terra cotta and glazed pottery, raffia and textiles. Some African masks are colourful. Many African masks represent animals. Some African tribes believe that the animal masks can help them communicate with the spirits who live in forests or open savannas. People of Burkina Faso known as the Bwa and Nuna call to the spirit to stop destruction. The Dogon of Mali have complex religions that also have animal masks. Their beliefs are in three main cults - the Awa, cult of the dead, Bini, cult of communication with spirits and Lebe, cult of earth and nature. These three main cults nevertheless use seventy-eight different types of masks. Most of the ceremonies of the Dogon culture are secret, although the antelope dance is shown to non-Dogons. The antelope masks are rough rectangular boxes with several horns coming out of the top. The Dogons are expert agriculturists and the antelope symbolizes a hard working farmer.

Another culture that has a very rich agricultural tradition is the

[ See the continuation... ]


Les collections d'art africain dans les musées du monde

L'Amérique

Bermudes

Hamilton
Bermuda National Gallery
City Hall, Church Street
lu-sa 10-16
Arts d'Afrique occidentale: Bamana, Bwa, Bete, Guro, Yaoure, Senufo, Ashanti, Yoruba, Ibo, Bamileke...

Brésil

Bahia
Museu Afro-Brasileiro. Universidade Federal da Bahia
Terreiro de Jesus
ma-sa 9-17
Arts et objets cultuels d'Afrique Noire: Yoruba...

Sao Paulo
Museu de Arqueologia e Etnologia. Universidade de Sao Paulo
Cidade Universitaria. Av. Prof Almeida Prado
ma-ve 9-17; sa 10-14
Ethnographie de l'Afrique noire. Exposition permanente "Culturas e Sociedades"

Canada

Calgary
Glenbow Museum
130 9th Avenue S.E.
ma-di 9-17
Arts d'Afrique occidentale: Baga, Senufo, Ashanti, Yoruba, Ibo, Yaunde, Bamileke... (non exposés en permanence)

Kingston (Ontario)
Agnes Etherington Art Centre. Queens University
Queens University Campus
ma-ve 10-17; sa-di 13-17
Arts d'Afrique occidentale: Bidyogo, Dogon, Bamana, Bankoni, Mossi, Dan, Senufo, Baule, Yaure, Anyi, Ashanti, Fanti...
Arts du Nigeria: Yoruba, Ibo, Urhobo, Koro, Mama, Kaka...
Arts du Gabon et du Congo: Fang, Kota, Bembe, Kongo, Yombe, Pende, Luba, Hemba, Lega, Songye, Tshokwe... (Coll. Lang)

Montréal
Musée des beaux-arts
1379-1380 rue

[ See the continuation... ]


Paris is for some years the worldwide capital of the market of the first Arts of Africa and of Oceania, strong of a tradition inherited from a colonial past and from an infatuation, at the beginning of last century, from artists as Picasso or Matisse for "Negro art". The opening of the museum of the quai Branly, unveiling of which provokes at the end of June a charged week, public sales - of which that announced exceptional of the collection Vérité on June 17th and 18th in Drouot - confirms this tendency.

For the expert Pierre Amrouche, "it is in Paris where there are most galleries specialised in First arts, it is in France where there are most collectors of first Arts, it is in France that the most important auctions of first Arts are held and it is in France that there will be so

on the most important museum of first Arts", he sums up.

Paris "regrouped all elements" cultural and commercial - museums and market - before dispersed between Brussels, New York and France, adds Margaret de Sabran, responsible of African and Oceanian art for Sotheby' s Paris.

The turnover is impossible to know because transactions are made so much on sales public that in galleries or between collectors. But for Mrs de Sabran, "of 50 inpubliques 60 pc sales of Africain and Oceanian art in the world are made in Paris", remaining pre-Columbian art especially in the United States.

The first "important sales of

[ See the continuation... ]


David Norden
http://users.telenet.be/african-shop/kerchache.htm
In a crucial moment for the world of Tribal Arts, Ana &Antonio Casanovas from Arte y Ritual and Alain Bovis Gallery present two consecutive exhibitions in Paris with a selection of masterworks from the Kerchache collection:
1."HOMMAGE" June 16-July 22 2006
2. "NIGERIA" September 13th –October 20th 2006
"HOMAGE TO JACQUES KERCHACHE"
WHY?
The Quai Branly
We want to pay an HOMAGE to Jacques Kerchache and , in his name, give support to an important historical event : the opening of the Quai Branly,one of the most important museums in the world dedicated entirely to "les Arts Premiers". Jacques was first appointed to asses the selection of art works for the "Pavillion des Sessions" in the Louvre Museum which was conceived as an antennae of the Quai Branly.He had a crucial role in the creation of this innovative museum and was an important member of the Acquisition Committee.
See the continuation... ]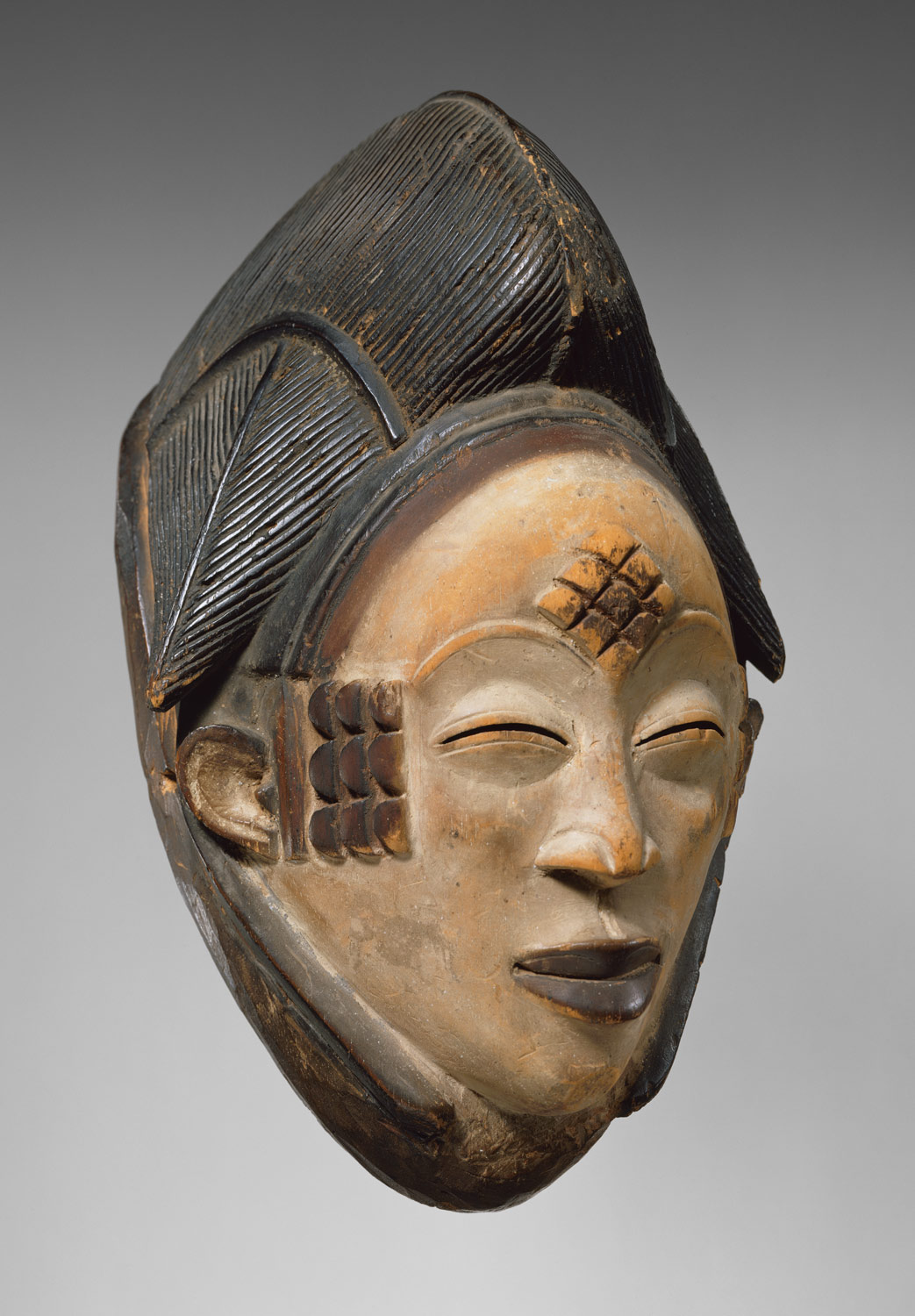 Mukudj Mask, 19th–20th century
Punu people, Gabon
Wood, pigment, kaolin; H. 13 1/2 in. (34.3 cm)
Purchase, Louis V. Bell Fund and The Fred and Rita Richman Foundation and James Ross Gifts, 2000 (2000.177)

The Metropolitan Museum of Art


african art / art africain / primitive art / art primitif / arts premiers / art gallery / art tribal / tribal art / l'oeil et la main / galerie d'art premier / Agalom / Armand Auxiètre / www.african-paris.com / www.agalom.com




[ See the continuation... ]


In 1950s, it was possible to find many objects at the price of 10 francs on the flea markets of Europe. The first objects to take value were those of the Benin because they were bronze, then came the fashion of objects to black patina of Ivory Coast, and those of Bakota of the Gabon plated by copper and by brass. The big statues were worth more expensive than the babies, while most often in Africa, if they are small it is to be able to hide them more easily because they have a particular importance.

In 1983, a Parisian trader, Jean-Michel Huguenin, makes discover seats Sénoufo. In 1985, another Parisian trader, Réginald Groux, discovers the ladders of lofts Dogon — coming from the cliff of Bandiagara — and Lobi in the region of Mopti (Mali).He acquires a first lot of fifty, makes them socler and sells them in his gallery by making a pretty benefit.

[ See the continuation... ]